The goal of END MASS Incarceration is to eliminate the numerous factors fueling the prison industrial complex. To volunteer and participate in planning conference calls, e-mail: info@pffunited.org
Description
"END MASS Incarceration" is a grassroots movement to eliminate the numerous factors creating the enormous, destructive prison industrial complex in our country. With only 5% of the world's population, the U.S. incarcerates 25% of the entire world's prison population.
False incarceration; unjust sentencing, racism, privatization, autonomous operation of the entire legal system and numerous other factors fuel the growth of the prison industry. "END MASS Incarceration" believes this huge industry is directly harming millions of people and diminishing the quality of life in every community in our country.
While many factions have sprung up across the country to combat individual concerns (all with valid purpose and excellent intentions) individually they are actually POWERLESS and will never be heard sufficiently to fully overcome even one factor.
ONLY BY UNITING ALL of those factions under one enormous umbrella will we ever be sufficiently EMPOWERED to overcome the massive political and economic force that controls the lucrative prison industrial complex.
ONLY BY UNITING ALL of those factions will we have the power necessary to be heard.
"END MASS Incarceration" seeks to UNITE all factions wishing to overcome the tragic consequences. (Each and every individual group or cause should continue its lone fight and never give up their goal, but only by UNITING each individual effort will there ever be sufficient strength to truly overcome.)
"END MASS Incarceration" seeks to assure that as ONE VOICE the goal of each individual faction IS FINALLY HEARD.
To our legislators each individual voice is only ONE VOTE. ONE VOTE IS POWERLESS UNLESS UNITED with all of the other votes in favor of ENDING the causes of MASS Incarceration.
By UNITING ALL of our VOTES, WE WILL BE HEARD.
We must UNITE to ever END MASS Incarceration.
We seek to unite our causes with peaceful demonstrations, including a march on Washington, DC (hopefully in 2014); massive letter writing campaigns to engage the media and gain the attention of our legislators.
We seek to unite our causes through any and all UNITED ACTIVITIES until ALL INNOCENTS are freed; until ALL UNJUST SENTENCES are reduced; UNTIL OUR TAX DOLLARS are used for humane and productive purposes; until the ENTIRE LEGAL SYSTEM HAS TRULY INDEPENDENT OVERSIGHT; until ALL CORRUPT PRACTICES in our entire legal system are overcome.
We know that only 20% of those who care will do all of the work to overcome what the other 80% are only whining and complaining about, but we are fully committed to our goal and will not give up until we are heard and positive change is achieved.
BECOME ONE OF THE 20%. JOIN THE EFFORT TO "END MASS Incarceration NOW.
———————————————-
"END MASS Incarceration" evolved from the work of a coalition at the 2013 National Prisoner's Family Conference and is being coordinated by Prisoner's Family & Friends United, a project of Community Solutions of El Paso, a 501(c)3 nonprofit organization seeking to empower prison families across the country. We thank Ray Hill, a long-time successful prison reform activist for providing guidance for the "END MASS Incarceration" movement.
For more information visit:
Host organization: www.solutionsforelpaso.org
Host Organization's Projects to overcome MASS Incarceration:
Prisoner's Family & Friends United: www.pffunited.org
&
National Prisoner's Family Conference: www.prisonersfamilyconference.org
___________________________________
UNITE to END MASS Incarceration!
____________________________________________________________
Written by Jazelle Hunt NNPA Washington Correspondent
Published: 11 November 2014
WASHINGTON (NNPA) – U.S. Attorneys across the nation are professional prosecutors, making sure criminals are locked up for their crimes. Beginning this fall, the U.S. Attorney's Office for the District of Columbia will take on a new and very different role as it turns its attention to those convicted of crimes they did not commit.
It will be the first time any of the nation's 93 presidentially-appointed federal prosecutors has taken up this cause.
The Convictions Integrity Unit will re-evaluate violent felony cases in which defendants can supply sufficient, new evidence that warrants a reconsideration of the conviction, especially DNA or biological evidence that can prove innocence.
The National Registry of Exonerations, a joint project between the University of Michigan Law School and the Center on Wrongful Convictions at Northwestern University School of Law, compiles information on all known exonerations since 1989, with convictions beginning in the late 1950s.
Florida, California, Illinois, New York, and Texas have the highest rates of wrongful convictions, and according to the registry, 1,467 people – 46 percent of them Black –    have been exonerated since 1989. This year alone, 81 people have been cleared; (49 of them are African American).
On average, these men and women are imprisoned for at least a decade before their convictions are overturned and their records expunged.
"There's nothing to suggest that the rate of false convictions is slowing down, at all," says Samuel Gross, law professor at the University of Michigan, and editor and co-founder of the National Registry of Exonerations.
Together, murder and sexual assault convictions account for 60 percent of the registry's exonerations. The high rate of homicide in Black communities is reflected in both conviction and exoneration rates; but in the case of the Black men who have been wrongfully convicted of sexual assault, a discrepancy emerges.
"Of the approximately 250 people exonerated for adult sexual assault, a majority are African American, over 60 percent. That's way higher than their rate of imprisonment [for sexual assault]," Gross says. "Among those exonerated, the African Americans are primarily Black men convicted of raping White victims. And their exonerations are based on misidentifications…because cross-racial identification is notoriously more difficult. This is especially true of White people."
For 80 percent of Black men wrongfully convicted of sexual assault, mistaken witness identification was one the factors that led to exoneration. And these cases take longer to review and overturn.
In the last decade, several conviction integrity units have sprung up in state and district attorneys' offices across the country, beginning with Dallas County in 2007. There are also several universities and organizations dedicated to assisting the wrongly convicted through DNA testing, such as the National Innocence Project or The Exoneration Initiative in New York.
But this unit in Washington is unique.
Most crime is tried at the state level, unless it overlaps with federal law and the U.S. Attorney in that jurisdiction decides to prosecute on behalf of the United States. Because Washington has no state-level justice system, both its local and federal crimes are tried in federally run courts. This unit expects to handle primarily local cases, but possibly some federal cases as well. Thus, it may be the first institution within the federal government to examine federal felony cases in search of the innocent.
"The U.S. Attorney's Office for D.C. handles local crime in D.C. as well as federal crimes. In other places, all sorts of things can be in local court but almost none of these are federal crimes, except in D.C.," Gross says. "Also, because it's a federal office, there are more resources they have command of…so they're capable of doing a more thorough job. [This Office] has more influence than U.S. Attorney's Offices anywhere else."
The U.S. Attorney's Office for Washington first turned its attention to possible wrongful convictions following the discovery of faulty testing and mismanagement within an FBI forensic lab that occurred during the 1980s and 1990s. Over four years, the Office sifted through thousands of FBI case files, reviewing Washington cases involving hair or fiber evidence processed by the FBI between 1980 and 2000.
Five men were exonerated as a result of this initial investigation. Each had already served approximately 30 years in prison.
Following the last of these exonerations, the Attorney's Office announced the creation of a permanent Convictions Integrity Unit for the District of Columbia. The unit is part of the Special Proceedings Division, which already handles all post-conviction matters for Washington. A Conviction Integrity Committee of internal prosecutors and vetted defense attorneys will choose and review eligible cases, and will create prosecutor training recommendations to prevent future wrongful convictions.
The creation of a Convictions Integrity Unit in the District of Columbia could have widespread legal implications, but it is still unclear what these implications might be.
"Although wrongful convictions remain a rare phenomenon, their consequences are tragic—for the defendants involved, for the victims of the crimes that remain unsolved, and for the community we work every day to protect," said U.S. Attorney Ronald C. Machen Jr. in a statement. "As prosecutors, our goal is not to win convictions, but to do justice."
____________________________________________________________
Click this link to view the details of this case
Please take a moment to read our plea!
We need your support. We are asking for your kind donation of $10.00 or whatever you can afford. Funds will be used to pay an Attorney and related fees for a 440 Motion, which is the next necessary step in our quest to secure Peter's Freedom.
Think about it,  just $10 from each of you is all that stands between Peter and his possible freedom.
Instead of that coffee and bagel that you grab on the way to work or the fast food you want so badly on your lunch hour, why not bring your own healthy lunch just one day and donate the money you save to a good cause?
If Peter's assigned Attorney submits a brief before we have these funds for an attorney for a 440 Motion then we are out of luck and cant present evidence of the Prosecutor Misconduct, Evidence Tampering, Staged Photos and so much more…
We need to do this, now, today and not delay!
Please support this man! What is ten dollars?! Please think about it; just $10 can help expose the corruption that we have been fighting for.
Thank you!
Click the link below, if your heart leads you to help!
___________________________________________________________
Below: A new, high tech tool to aid Police or a new way to fuel Mass Incarceration and to increase the overall misery of the average person trying to get by? What do you think?
Man who spent years in jail is awarded millions for Wrongful Conviction
Edwin Chandler spent nine years in prison after being wrongfully convicted of murder. Louisville metro government agreed to pay $8.5 million to settle a federal lawsuit filed by Mr. Chandler. Nick Brustin, Chandler's lead counsel, said: "We are pleased that the settlement recognizes that this was not just an innocent mistake but was the result of very serious misconduct. The city has done the right things in taking responsibility for a terrible act by one of its employees."
Brustin said former Detective Mark Handy, first coerced Chandler into confessing by threatening to arrest his sister for harboring a fugitive and take away her children. Then Handy misrepresented that Chandler had volunteered facts about the crime when all of those facts came from Handy, Brustin said.
Chandler claimed evidence of his innocence was ignored for years because of "a veritable perfect storm of misconduct" by investigators, according to his suit filed in 2010.
He alleged that detectives and officers coerced and fabricated a false confession from him, pressured witness statements, concealed and destroyed evidence of his innocence, and covered up repeated misconduct.
Another lawyer for Chandler, Debi Cornwall, a partner in the New York firm of Neufeld Sheck & Brustin, said when the suit was filed that it was "one of the worst cases of systemic police misconduct I've seen in the entire country."
The same law firm negotiated a settlement of nearly $4 million with the city in a wrongful-arrest lawsuit filed in 2001 on behalf of William Gregory, who was also wrongly convicted and imprisoned.
_ ________________________________________________________________________
_________________________________________________________________________
__________________________________
Elderly Inmate Population Soared 1,300 Percent Since 1980s: Report
The population of aging and elderly prisoners in U.S. prisons exploded over the past three decades, with nearly 125,000 inmates aged 55 or older now behind bars, according to a report published Wednesday by the American Civil Liberties Union. This represents an increase of over 1,300 percent since the early 1980s.
More than $16 billion is spent annually by states and the federal government to incarcerate elderly prisoners, despite ample evidence that most prisoners over age 50 pose little or no threat to public safety, the report said. Due largely to higher health care costs, prisoners aged 50 and older cost around $68,000 a year to incarcerate, compared to $34,000 per year for the average prisoner.
Unless dramatic changes are made to sentencing and parole policies, the number of older prisoners could soar as high as 400,000 by 2030, posing a tremendous threat to state and federal budgets, said Inimai Chettiar, a co-author of the report.
"If we continue spending on prisons the way that we are, particularly on this aging population that's low risk, we're going to get to a place where states can't afford to spend on anything else," Chettiar said.
And while elderly inmates released from prison will require medical care and other public services, a fiscal analysis by the ACLU found that states would save an average of more than $66,000 per year for each elderly prisoner they release.
PHOTOS: (Story Continues Below)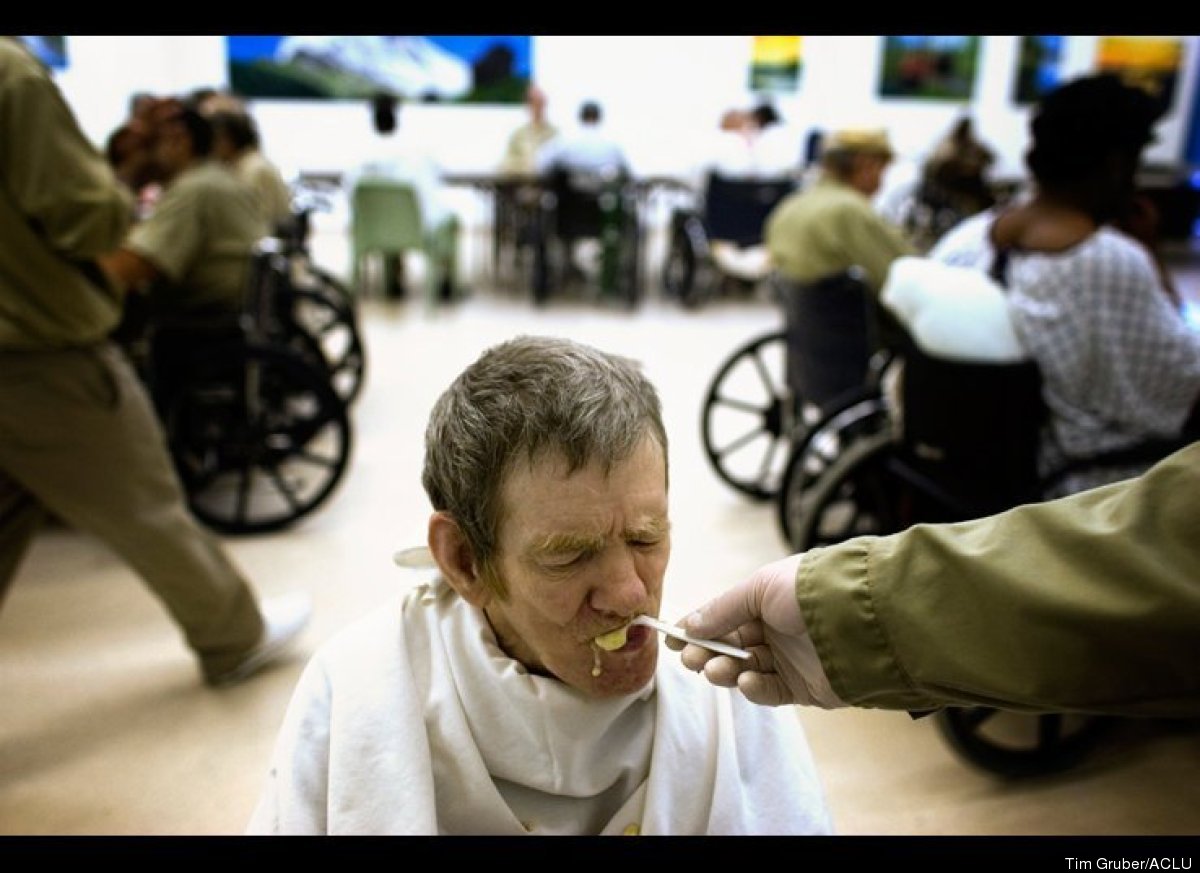 "Simply put, it is an unwise use of taxpayer dollars to spend enormous amounts of money locking up elderly prisoners who no longer need to be behind bars," said William Bunting, an ACLU economist and co-author of the report.
The population of elderly prisoners is not booming due to a geriatric crime wave. In fact, statistics show there are fewer old people committing crimes than before, Chettiar said.
Rather, the report found that the graying of the nation's prisons is largely the result of harsh sentencing laws enacted during the 1980s and 1990s, creating a vast pool of prisoners serving extraordinarily long sentences, often for non-violent crimes or drug offenses. Many states created statutes that triggered long sentences — including life in prison — for repeat offenders, even for those convicted of a series of relatively minor crimes.
Harsh anti-drug statutes and 'truth-in-sentencing' laws — which dictate that inmates serve the majority of their sentences before being paroled — also led to a sharp increase in the number of inmates growing old in prison.
As prisons increasingly resemble nursing homes, some states are considering more cost-effective alternatives. In 2011, the Louisiana legislature passed a law making it easier for inmates over the age of 60 to obtain parole hearings. The law only applies to non-violent offenders. Louisiana's prisons suffer from some of the worst overcrowding in the nation.
Marjorie Esman, executive director of the ACLU of Louisiana, applauded the move. "Louisiana should not be using taxpayer dollars to lock up elderly individuals when they pose no danger to our communities," Esman said in a statement at the time.
Statistics show that the likelihood of a prisoner committing a new crime post-releasedrops sharply in old age. However, many older inmates do end up back behind bars for parole violations.
__________________________________________________________________
END MASS INCARCERATION RALLY!
Coordinated by: Prison Families Anonymous2
Sponsored by: Suffolk County Reentry Task Force
Date: THURSDAY, JULY 25, 2013 8:30 a.m.—3:00 p.m.1
Location: TOURO LAW SCHOOL
252 EASTVIEW DR.
CENTRAL ISLIP, NY 58 Registration Required
Featuring: KEYNOTE SPEAKER: DAVID ROTHENBERG, FORTUNE SOCIETY FOUNDER
Schedule
8:30 am Registration
9:00 am Welcoming Remarks
9:15 am The Impact of Reentry on Families
10:00 am Addressing Employment & Housing Barriers
10:45 am Brunch
11:15 am Keynote Address by David Rothenberg
12:00 pm Research, New Findings, and Children
12:45 pm Navigating Parole & Probation During Reentry
1:30 pm The Critical Role of Education
2:30 pm Closing Remarks
____________________________________________________