"This page is dedicated to those who write, produce or sing music and/or poetry that positively impact the lives of others or that sheds light on the truth." ~D-Source~
________________________________________________
This is your opportunity to experience the life of an average African-American male. You will become him and experience all the happy moments and all the joy, pain, suffering, and misery that he does. You will experience the love and even the hate that he experiences. You will experience the sex, violence, drugs and alcohol, the loneliness, the bitterness, and the reasons behind it all. You will take a ride down the back alleys of life, where even hope is afraid to go. And in the end, you may question your own philosophical, spiritual, and political views.
THE AUTHOR
A lot of people ask how I came up with the title of my book:
"Stop Hitting Me with That Bat!
The Premise: If you are hit with with a Baseball Bat, you will fall and may get right back up. If you are hit again, you will fall and need a crutch to help pull yourself up; maybe a chair or a table. If hit again, you may not have the strength to pull yourself back up. Hopefully, someone is there to extend you a hand and help pull you back up. If hit again; even if someone extends you a hand, you may not have the strength or you may decide that you don't want to get back up. You may ask why; just to get knocked right back down? You may suddenly find it reasonably comfortable down there and decide to stay.
The 'Bat' symbolizes all the things in life that can hit us hard, i.e. the loss of a loved one, an illness like Cancer, the loss of a great job, etc. Sometimes life can really beat you down. Now, many people feel that what doesn't kill you will make you stronger. But I wonder if people who say that have ever been hit with a Baseball Bat?
Enough said… You'll have to read…
Blackjack Evans
CLICK THE LINK BELOW
TO
PURCHASE YOUR COPY NOW!
_______________________________________________
Born under the light of the rising sun, I was named after the beauty of the new day. Later to be given the moniker of Desert Rose, it all fit together. Born as the sun rose over the desert, a place that only comes to life after the storms, at a time of day that is most beautiful, only after the darkest hours. This is me. For my life became the darkness of abuse, neglect, the total removal of all that was light in my life; the end only coming as the strength and beauty of the light returned, removing the darkness that engulfed the hours before the dawn.
CLICK THE LINK BELOW
TO
PURCHASE YOUR COPY NOW!
________________________________________________
John Alite's story is truly unique. It is an inside look at the treacherous, double-dealing and corrupt world of the American Mafia in the 21st century. You want honor and loyalty, watch The Godfather. You want reality, talk to John Alite.
Over the course of a twenty-five-year career as a gangster he brutalized people, stabbing them, shooting them, beating them with clubs, blackjacks and baseball bats. He's not proud of that, but he doesn't try to hide from it either. It's who he was.
John Alite was a murderer, drug dealer and thug.  After learning his lessons the hard way, he has turned his life around and is now a bestselling author, crime consultant expert, performance coach, and keynote speaker.
John Alite was a murderer, drug dealer and thug.  After learning his lessons the hard way, he has turned his life around and is now a bestselling author, crime consultant expert, performance coach, and keynote speaker.
Over the course of a twenty-five-year career as a gangster he brutalized people, stabbing them, shooting them, beating them with clubs, blackjacks and baseball bats. He's not proud of that, but he doesn't try to hide from it either. It's who he was.
But it's not who he is.  At least that's his position today as he tries to put his life back together, a former mob associate and hitman trying to live a normal life, trying to figure out how he got off track and trying to get back on.
"Sometimes I wonder what happened," he says.  A lot of people do.  The simple answer is that he did what he did to make money, to live well and to enhance his position in the Gambino crime family. He did most of it, he says, on the orders of John Gotti Jr. and sometimes on the orders of John Gotti Sr. Two federal court juries in New York heard him tell parts of his story. One came back with a conviction. The other couldn't decide.
His decision to cooperate with the government and take the witness stand was a seminal event in his life, a choice that he believes has gotten him back on course. Only time will tell. But the story behind what got him to the witness stand is a fascinating look at the American underworld, a story told from street-level of one man's descent into a world of money, murder and betrayal. It may also be a story of redemption, but that's a question that can't be answered at this point.
John Alite has decided to tell that story. A book about his life – GOTTI'S RULES, A Story of Money, Murder and Betrayal – written by journalist George Anastasia and released by HarperCollins in 2015. He hopes the book will be a springboard to other opportunities to tell the story in other mediums.
The backdrop is the Gotti family and the American Mafia.  More accurately, the Gotti family and the demise of the American Mafia. No one individual has had more to do with the once secret society coming apart at the seams than the Dapper Don, John Gotti Sr.
Gotti was a mob boss who loved the spotlight, a celebrity gangster who thumbed his nose at the conventional wisdom of the old time wiseguys. The idea was to make money, not headlines, they would say. Gotti thought he could do both. For a long time he did.
And his son John A. "Junior" Gotti embodies the me-generation of the mob, a precocious kid whose sense of entitlement was his undoing. In many ways he was the George W. Bush of the underworld, rising to the top not on the basis of what he had done, but on the coattails of his father and the magic of the family name. Bush didn't have a clue. Worse, he didn't seem to care. It was all about the status and the power and the office. Junior was the same way. He liked the idea of being a gangster, but never really understood how it worked.
Alite, the grandson of Albanian immigrants, could never become a "made" member of the Gambino crime family. But he rose to the top of the organization, moving within its inner circle of power. The status, the money and the influence were part of the seduction. They were too much for a kid who had grown up poor on the gritty streets of Woodhaven, Queens. His father was a cab driver and degenerate gambler. His mother was a secretary. The family of six – he has a brother and two sisters – lived in a four-room apartment with relatives living upstairs, downstairs and across the street.
He had nothing growing up. Yet  through his drug dealing, gambling and loansharking operations, Alite became a millionaire. How he lost the money and regained his own self-respect is part of his story. So too are his three years on the run. In 2003, after learning he had been targeted for death by the crime family he had served, he took off. His trip took him to twenty different countries in Europe and South America. He finally settled in Brazil, living the good life on the beaches of Copacabana until an Interpol arrest warrant ended the sojourn. He spent more than two years in two of Brazil's worst prisons, a descent into hell that has left physical and emotional scars that he continues to deal with today.
Now he is back home. Rejecting an offer for life in the Witness Security Program, John Alite has decided to live his life on his own terms. "Those who know me know why I did what I did," he said of his decision to cooperate and testify. "Those who don't should mind their own business."
John Alite's story is unique. It is an inside look at the treacherous, double-dealing and corrupt world of the American Mafia in the 21st century. You want honor and loyalty, watch The Godfather. You want reality, talk to John Alite.
CLICK THE LINK BELOW
TO
PURCHASE YOUR COPY NOW!
________________________________________________
 One frantic call from the local jail catapults an entire family on a frightening journey that no family would wish to travel. Their traumatic journey encounters endless frustration and infuriating madness from which there is no escape. Millions of Americans are traumatized by the mass incarceration in this country. The Unvarnished Truth about the Prison Family Journey is an exceptional resource for prison families, as well as those serving them in the fields of criminal justice, education, ministry and mental health care. The authors have over fifty years combined personal and professional experience with the criminal justice system. They weave graphic personal, legal and emotional perspectives into a rare and boldly honest look at the realities faced by prison families. They offer encouragement and hope for successfully navigating the journey.
CLICK THE LINK BELOW
TO
PURCHASE YOUR COPY NOW!
________________________________________________
Teresa M. Browning: (1961 – present) born in Lawton Oklahoma, parents were in the military, grew up traveling, and returned to Washington, DC in the 1970's. Her First book, "Why I Kept My Past A Secret" was in the top 10 books of the year in 2001 and 2003 Mosaic books. Ms. Browning now resides in Rock Hill, South Carolina.
"I believe that a trusting attitude and a patient attitude go hand in hand. You see, when you let go and learn to trust God, it releases joy in your life. And when you trust God, you're able to be more patient. Patience is not just about waiting for something… it's about how you wait, or your attitude while waiting."   ~ Joyce Meyer~
"I first discovered my passion for writing at the early age of 13. I would sit alone and write for hours about my thoughts, dreams and about the people around me. I wrote in a journal every day. As the years passed I decided to take my journals and put my thoughts in book form.
As a self-published author I actually didn't start putting my work together for a novel until my children were in there last few years of high school. They were very supportive in my goal of becoming a writer.
Getting my work published was the easy part. It is you who must be able to walk through the door in YOUR season to deliver the message. If you reach one person with your message from what you have written, you know you have achieved the goal you personally set out to do.
For all of you who have taken time out of your busy day to read through the pages of these books, I extend a gracious thank you. I hope that they have been blessings to you and have allowed you to release everything that has held you back from accomplishing your hopes and dreams in life. Peace and love to you all."
~Teresa M. Browning~
"Ms. Browning is an outstanding author with a true blessing from God."
~Leslie Garrett~
"This book was the best book I ever read outside the bible. I cried, laughed, I got mad and so many more feelings came out of me while reading it. I think the author went through things that showed me their is hope …" 
~ Gill Merton~
PURCHASE YOUR COPY, NOW
________________________________________________
Mr. Buzzy Martin
Born in Grand Rapids, Michigan, Buzzy taught himself to play the guitar and piano at the age of 13. At the age of 15, he performed with his first band as the lead singer, playing guitar and keyboards. Buzzy has been making his dream real, one step at a time. After graduating from high school there were the traveling cover bands, steadily touring the Midwest from Michigan to Florida. In 1979, he moved to northern California, had a stint as a solo street performer at the world famous San Francisco Fisherman's Wharf.
While wood shedding his composing skills, Buzzy became the much-in-demand host of a series of coffee house open mic nights, where his knowledgeable musicianship, sunny personality and non-stop encouragement helped the caffeine scene thrive. In 1980 he began to play with many local bands and musicians as a featured artist. In early 1981, he was hired as the mainstay guitar player for an Elvis Presley impersonator and became responsible for the direction and stage presence of the band. This became a highly enjoyable group to work with and afforded him the opportunity to travel the West Coast circuit. In 1984, Buzzy started his own Top 40-style band, which quickly became recognized by club owners.
An established professional who loves the music he shares, Buzzy Martin is living proof of the rewards of following one's childhood dreams and is now the author of Don't Shoot! I'm the Guitar Man.
Significant Achievements:
Author of Don't Shoot! I'm the Guitar Man, 2007
Court Appointed Juvenile Justice Commissioner of Sonoma County, CA in 2005 to 2007
Writer, producer, arranger, and performer for 2000 Kids Helping Kids,a song to help raise funds for the construction of a new facility forSonoma County's Valley of the Moon Children's Home.
Writer, producer, arranger and performer for 1993 song featured on national television programs, and radio play; Please Come Home to help create awareness surrounding the kidnapping of Polly Klaas and for all missing and abducted children.
Awards:
Video: The Children of Poverty Street
Video: Hands Up Don't Shoot
Video: Buzzy Martin's Glimpse of Upcoming Movie

BUZZY'S BOOK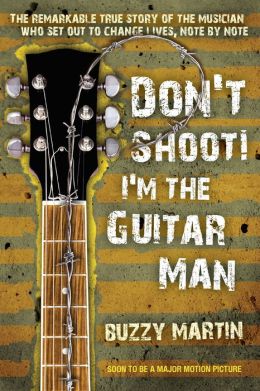 This is the story of lifelong musician Buzzy Martin, music teacher to the hardened criminals inside the walls of San Quentin Prison-and what he learned, note by incredible note.
Book Review:
Buzzy Martin gives a blunt, honest account of prison life and how music can transform the soul. This man should get a Nobel Prize for his tireless work of keeping at risk youth out of the prison system
~Unknown~
Book Review:
"… a stunning portrayal of everyday life in the Big Q. Buzzy Martin's book depicts a not so glamorous account of a city of lost souls. The only glimpse of hope for inmates caged like animals is the two hours they spend strumming the guitar and singing at the top of their lungs with Buzzy. For a close-up view of a dead-end street, young "juvenile hall gang bangers" might read this powerful book about life in San Quentin Prison. Having worked with juvenile offenders for over 29 years, I believe these true life stories grab the attention of the reader immediately and illustrate the shocking reality
of inmates in a prison culture who are preyed upon and changed for life."
– Matthew R. Fenske, Superintendent, Kent County Juvenile Detention Facility
PURCHASE YOUR COPY, NOW!
________________________________________________
Once a young girl with a wild imagination and a pen. My mind was the one place where I was free to express myself as I pleased. Nothing was ever off guards within the comfort of my ears. I put words to paper and surprisingly others found pleasure in it as well. This is a new journey that I am pleased to be on and blessed that I get to share it with all of you!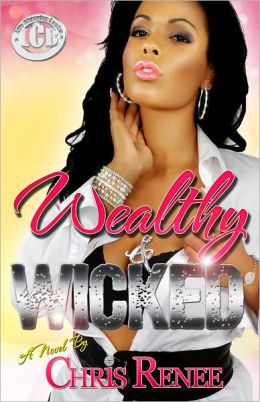 Tracey Robbins has it all: money, successful, business, and a closet a girl would kill for. St. Louis is her playground as everybody who wants to be somebody tries desperately to be in her circle. However, living the young, black, and privileged life comes with perks that could turn the purest hearts wicked, just for a chance to be like her. The unannounced arrival of Tez, a sexy seemingly no good thug, sends her life in a downward spiral that no one saw coming. Soon after, she finds herself the center of a devious plan to ruin her life. Betrayal runs deep as the people the closest to her begin to show their true colors. With her back against the wall, she finds love in an unlikely pair of arms. Will that love be enough to save her, or will she remain lost in the pursuit of wealth?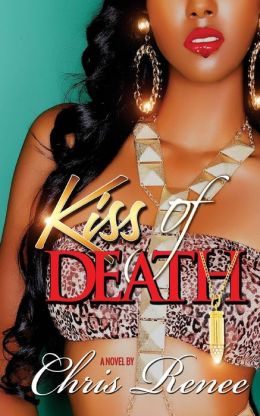 Overview
Living a lie is all Mykah has ever known. Most think she has a picture perfect life; a loving husband, two beautiful daughters and a thriving business. What more could a sexy woman possibly want? Unfortunately for Mykah, her devious secrets are revealed and her hustling ways come to an end. Taking a dramatic turn for the worst she gets involved with St. Louis most feared family, the LaRues. Eventually she has to kill or be killed for survival. On the brink of losing everything, Mykah realizes just how lonely the game is in the pursuit of money, lust and men. With no one to trust, everyone becomes a target in the game of love and war. For Kiss of Death Excerpts follow Chris Renee on IG and twitter@IamChrisRenne @lcbooks
PURCHASE YOUR COPY  NOW!
_______________________________________________
Kenny L. Mitchell is Author of the 'Loves Me Not' series. The three volume set deals with the perils of Emotional Dependency & the realistic ramifications of Physical Abuse. The Author eloquently brings us three AMAZING and evolving stories of flawed people, with struggles we can all relate to.Mr. Mitchell was born & raised in Southeastern Georgia. He currently is promoting and speaking about the series.
CLICK THIS LINK TO PURCHASE YOUR COPY, NOW!
Also

Overview
From the best selling LOVES ME NOT series comes the epic tales of the clandestine organization known as the Askari Sisterhood. Shrouded in mystery, the secrets of the 'Queen's Executives' have never been revealed…until now.
"Niobe Catherine Spencer was born to a beautiful, encouraging Mother & a strict yet gifted minister Father. When a tragic accident forces Niobe away from her sheltered life, she is set upon a path that challenges every facet of her existence. Along the way, Niobe comes to the attention of the mysterious 'Askari Sisterhood.' She is challenged by a merciless but wise instructor who teaches Niobe not only how to be a stronger woman but to become… A Great Lady."
The Askari Sisterhood Series reveals the joys, pains, laughter & tears behind the legendary organization. Each tome offers an exclusive look into characters who captivate the hearts & inspires the mind.
CLICK THIS LINK TO PURCHASE A COPY, NOW!
_____________________________________________
Minister Leslie E. Wallace is a native of Union, SC, and completed her primary education from Union County Schools. Upon graduating from Union High School she enlisted into the United States Army. She served four years active duty, and was discharged with an Honorable Discharge.
After returning back to her hometown, she acquired her Bachelor of Science Degree in Liberal Studies at Limestone College. She also enlisted into the National Guard and served for seven years and  received an Honorable Discharge.  She also earned her Master's Degree in Non-Profit and Leadership from Capella University.
In 2006 she preached her initial sermon and was licensed as a Minister. She is now one of the Associate Ministers at Valley Brook Outreach Baptist Church, under the leadership of Pastor Curtis L. Johnson.  She is very active in her church as well as in her community. She is a member of the Outreach Ministry that feeds, cloths and ministers to those that are homeless and those who live in poverty stricken areas.  She is the Co-founder, along with her husband, of 'His Plans Ministry', a nonprofit Outreach Ministry that supports women and children who are homeless and in need of assistance, in getting back on their feet.  She serves on the board of Capstone Inc., an organization that helps less fortunate youths and families.  She also mentors  women at Miracle Hill, a Homeless Shelter, every Thursday, to help them regain their confidence and self worth and to help them be successful, re-enter society and be productive citizens.
She also volunteers and partners with other organizations within the community to help the needy, the homeless and those who have been released from prison. She is also a Motivational Speaker, who speaks and encourages others to walk in the purpose and promise that God created for them. She has a heart and passion for God's People. This is her passion and this is her purpose.
And now, Leslie Epps Wallace has published her first book entitled 'Changing Faces', which is a must read.
Hannah is an attractive, sophisticated, well-educated business woman. To the natural eye, she looks like she has it all together but there is a dark side to her that no one knows about…Changing Faces… it's time to reveal what's under the mask.
CLICK THE LINK BELOW TO PURCHASE YOUR COPY NOW!
________________________________________________
Trinette Collier
 Trinette Collier is a 41 year old Educator and Entrepreneur from Los Angeles, California. She is the oldest of five siblings born to the late Mr. Ivory Collier & Mrs. Carolyn Collier. As a Military Child, her family traveled and lived in different cities, states and even overseas. Her father always stated that he wanted his children exposed to different cultures and races and that he did not want them ignorant to the world. And Trinette appreciated and valued her very adventurous childhood.
Trinette is currently an Educator with the Atlanta Public School System. She was blessed to receive her B.S. in Early Childhood Education from Morris Brown College in Atlanta, Georgia and her M.Ed. in Curriculum Instruction from Coppin State University.
REVIEW
Those that go through the fire will either be destroyed or renew
Those that go through the fire will either be destroyed or renewed. No matter the hardships and heartaches that kept coming the Author's way, she continued to up the ante on her faith. The devil will have you thinking that yeah, you're all that and you don't need God. It's right there that you hit rock bottom and have no place to look but up, to the Creator. He is the captain and we're merely the vessel. Placed on this earth to live out the purpose he designed for each of us. The Author has been there and done that and I applaud her for revealing such bittersweet truths for the world to see. It is the woman on fire that will blaze brightest of them all.
CLICK A LINK BELOW TO PURCHASE YOUR COPY NOW!
________________________________________________
Are tired of trying and failing at losing weight?  Do you struggle to stick to your diet?  Do you lose your motivation and commitment a few weeks into your new weight loss regimen?  Do you want ANSWERS that will UNLOCK the mystery of weight loss for you?
Then this is the book for you!
Click the link below to purchase your copy
Now!
________________________________________________
Terrie Lynn is a native of NE Ohio and currently resides in the Atlanta, Georgia area.  Terrie is a controversial Relationship Columnist and writer of  Sisters Stop asking Sisters, I'm A black Man, Just Ask Me and What You Think You Know You Don't. She has been featured in Gloss Magazine, On The Rise Magazine, Genesis Magazine, on the 24 Hour Mom Radio Show, The Antonio Smith Radio Show, the 'Let's Change the WORLD Radio Show and others… She is currently a columnist for Nottheads Blog and has had signings at Barnes and Noble, Afro-American Book Store and other metropolitan Atlanta book outlets.
Terrie  is a talented Writer who has taken a combination of her own, personal life experiences and the experiences of others to examine the who's, what's, whens and why's when it comes to women. She has obviously done her homework and research, because her new book 'Why Did I Like You Anyway?' has Average Rating has 5 Stars on Amazon.com, as of 11/19/2014.
This is a great book for women who are seeking answers and men who are seeking insight into women.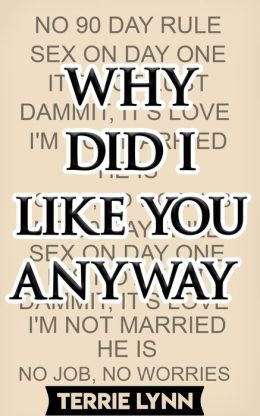 Self-help relationships. Why women do what they do, and like who they like. A modern women's guide to avoid foolishness. Learning more about yourself, and how you behave in relationships.
Click the link below to purchase a copy, now !
__________________________________________________________
Sylinda D. Mumphery is an author, mentor, women and youth empowerment speaker. President of SylindaD, LLC  and  founder of SylindaD's Girls To Pearls Mentoring Program.  She lives in Atlanta, Ga. Her show, "Removing The Bandages With SylindaD'" is a show that allows Kings and Queens to come together as one, while becoming naked in the spirit , exposing their wounds and  speaking life back into one another. A show  where we undress the mess, be real and Heal Our Private Parts.
In the Name of Love Is a must read for parents and teens alike. Sylinda Mumphery brings to the forefront the challenges our children face to day, i.e., pre-marital sex, drug abuse, absentee fathers and mothers and how serious peer pressure can be. Imani, the main character of the book is a prime example of our modern day teen facing the daily challenges of either fitting in or walking the life that Christ has predestined.n the Name of Love Is a must read for parents and teens alike.
Click the link below to purchase a copy, now !
Malcolm & Peanut
Malcolm is afraid of his coming first day of school.  His faithful canine companion hops into his back pack to make sure that he is ok. Come along with Malcolm and his talking dog, Peanut as they take a journey on their first day of school.
Click the link below to purchase a copy, now !
Heal My Private Parts
Sylinda speaks to the heart of women, imparting, impacting and empowering them through her movement 'Removing the Bandages'. Along with her  daily blog on Facebook and her upcoming radio show 'Removing The Bandages With SylindaD', she encourages women  not to allow their past or present circumstances to overtake them or lose their faith.  Her vitality, bodacious and uplifting spirit brings a sense of peace yet speaks volume at the same time. She speaks life to everything that lies dormant within, while convincing women to break their silence on the pain that keeps them in bondage.  The movement has taken off exclusively  with a huge support from both women and men.

Life's test and trials becomes testimonies along the way and you have to tell your story like a testimony that will strengthen you and not break you.  We may become wounded on the battlefield, but pressure has to be applied to stop the bleeding.  Every wound has a story that is buried underneath it.  It is at that time that we must realize that whatever does not break us, will definitely make us stronger.  We cannot allow our problems and pain to consume our lives.

Private pain happens when your problems have pushed you into a position of pondering on the need to be loved or accepted, when you've been betrayed by those you trusted.   When the wounds of rape, low self esteem, sicknesses, unforgiveness, depression, emptiness, brokenness, divorce, abuse, rejection, etc; have left you bleeding internally and there is nothing that no one can do or say; It is then that you realize that you have to become unshielded, unvarnished and uncovered as you allow the bandages to be removed and your private parts to be HEALED..

Heal My Private Parts has become a top seller for women due to the authenticity of  various circumstances that plague the lives of many women on a daily basis. This book speaks to wounded souls that have decided to hide behind the shadows of their pain and die in the midst of their troubles. No matter your race, social/economical status or background; we all have and will face problems, pain and disappointment.  Several women are giving their testimonies of how this book has touched them and given them a sense of self evaluation, elevation and revelation.  We have to unveil and remove the concealed mask, so that we may be revived, renewed, restored and released; then as a result, all of our Private Parts can be HEALED!!!!!!

GET YOUR COPY TODAY!!!!

A MUST READ….
Click the link below to purchase a copy, now !
____________________________________________________________
"RECOMMENDED! … screaming for adaptation as a successful film…"
~  The US Review of Books ~
"THRILLING! … grips onto the reader and never lets go!"
~ Feathered Quill Book Reviews ~
"FIVE STARS! Unique and compelling. Delivers on every level…"
~ Readers' Favorite Book Reviews ~
Over a remote northern forest, a small plane carrying five teenage friends flies into a freak storm. Struck by lightning, the aircraft crashes and the passengers find themselves cast into a life-changing adventure.
In a hidden valley, a mysterious people gaze at the stormy sky as a glowing object with fiery wings disappears behind a mountain ridge. The astonishing sight reignites an ancient prophecy foretelling the arrival of five chosen ones destined to become bearers of light against a dark storm gathering on humanity's horizon.
In a distant city, a secretive organization led by a shadowy figure initiates a sequence of cataclysmic events designed to wreak havoc across the planet, beginning with a remote mining site in northern Canada
As the three worlds collide, unlikely heroes arise. Armed with powers entrusted to them by the ancient prophecy and the resilience of their life-long bond, the five teens take a stand against a malevolent foe.
" RIVETING! Aegis Rising takes you on an intriguing ride through mysterious northern forests and mist covered mountains to corporate boardrooms and global schemes. Prepare to be swept away on a breathtaking journey! "
~ Honore Gbedze – The SAGE Foundation~
" An extraordinary effort… all the more amazing given the author's age. I was especially gratified by the way she used the teen
protagonists' close knit relationships as the backdrop against which the dramatic events in Aegis Rising unfolded, without having
"love interest" or other typical teen story devices hijack the underlying theme of the book. She's a real talent!"
~ Red Grammer – Grammy Nominated, Award Winning Producer ~
" FIVE STARS! Unique and compelling. Delivers on every level… perhaps the best sci-fi adventure I have read all year!"
~ Katherine Bennett – Readers' Favorite Book Reviews ~

" In her impressive debut novel, S.S. Segran wields a skillful pen that transcends her youth by crafting haunting prose, vivid imagery, and a well thought out plot to cast herself into a mix of young authors to watch. It is obvious, from the very first chapter, that this is the work of a talented writer who possesses an enviable imagination along with the intelligence to mold it into an absorbing story."
~ Christopher Gill – Amazon Reviews ~
" FASCINATING! Aegis Rising is a unique, story-driven novel. A great read… the pages keep turning."
~ Uma Ampikaipakkan – Producer/Host, BFM89.9 ~
Click the link below to purchase a copy, now !
____________________________________________________________
Click the link below to purchase a copy, now!
___________________________________________________________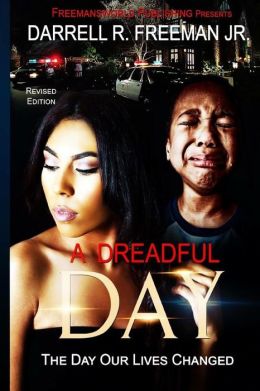 Click this link to purchase a copy, now!
Click this link to purchase a copy, now!
Click this link to purchase a copy, now!
___________________________________________________________
"Good Afternoon Everyone,
I am so exciting about my first published book:  Kingdom Finances for Kingdom Building.  This is a vision from the Lord manifesting upon the earth in my life.  It took five years to get here, but it is here and I am here.  I come to encourage you, if God gives you a vision, follow it with all your heart no matter how long it takes you.  Follow it until the manifestation. God is faithful to complete the very work He has begun in you.  His word does not return void, but it accomplishes that which He sent it out to do and achieve the purpose for which it was sent.
Kingdom Finances for Kingdom Building was written with a passion to see the people of God break free in their financial life for the advancement of the kingdom of Jesus Christ.  It will make you laugh, cry and re-evaluate your financial position as you embark upon a practical and biblical journey to financial freedom.  With biblical application, interactive exercises, and her own personal testimony, Kellie L. Morgan will evoke, enable and empower you to move forward into your financial destiny, while establishing an intimate relationship with the Lord."
EXCERPT
Debt freedom begins in your mind.  You must be willing to replace the lies you have believed about money and your ability to be a steward over it with the truth.  The truth can be found in the word of God.  Just as I stated above, find out what God has to say, and begin to apply it to your life.  Do not just be a hearer of the word, but be a doer of the word (James 1:22-23). Work the word and it will work for you.  Remember, the race is not given to the swift, so keep pushing until you meet your expected end. Unless you hit the lottery or receive an inheritance, getting out of debt is a process.  It does not happen overnight. But with time, discipline, patience and wisdom, you can live a debt free life.
Purchase your copy today!
Follow: KFKB Facebook Page
___________________________________________________________
About the book
"The book "God's Miracle Among Corruption in Idaho" investigates what happened behind the scenes when medical negligence almost cost a 13-year-old girl, her life.  It also gives an in depth view of how this affected her family and how the power of prayer helped them overcome."
Inspiration
"When I turned inward and blocked out the world, blooms of faith sprouted from the word of God within me. It gave me the strength to stand, hope to overcome, and faith to believe in the impossible workings of God."
"Sometimes doctors make horrific errors that may disable and even kill patients.  Although an apology does not ease the pain, it would at least be acknowledgment and a sign of some respect for the life affected by the error."
"Every time I address the devastation of October 4, 2007, I feel like I am on a roller coaster ride, free falling, trying to brace myself until it stops and it stops only to begin again."
When God places his leaders in positions to expose the corruption of the enemy, we are to stand, and not turn away as if we do not see the injustice.
* Many times in trying to find a new normal, you make many false starts because you are trying to find your way in a world that was once totally oblivious to you. There is the temptation to give in to feelings of defeat because the task of moving forward seems so overwhelming.
Now Available for digital download!
Now Available for digital download!
____________________________________________________________
INTRODUCING:
WINNING AT ENTREPRENEURSHIP
Motivational maven and powerhouse speaker Teri Harrison is a catalyst for legacy makers. As a leading Business Attorney and Success Coach, she inspires women to elevate, execute and excel. She is the founder and CEO of Fearless & Fabulous Worldwide, a Personal Development and Business Consulting Boutique for Out-of-the Box Entrepreneurs. She is also the founder of the Tennessee Business Law Center (TBLC), a specialty law firm that caters exclusively to Entrepreneurs. Her first book, Winning at Entrepreneurship: Innovative Strategies for Small Business Success, is a roadmap for startup success. As a content contributor for Black Enterprise, Teri uses the power of her pen to empower entrepreneurs with strategies to start, grow and protect their business. Active in her community, Teri is the founder of Business Girls Rock and was recently appointed as an official partner of Sheryl Sandberg's organization, Lean In. Teri is a graduate of Spelman College and a distinguished graduate of Southern University Law Center.
THE #1 GUIDE TO START, GROW AND PROTECT YOUR BUSINESS!
Entrepreneurship is challenging, but you can do it and you can win!  Knowing what to do and why you should do it is a necessity.  You need a trustworthy resource to guide you through the process.  This resource will help you do just that. This book will guide you, step by step, on what it takes to win at entrepreneurship and have a successful business. You will also get personal development strategies to maximize business performance and cultivate the mindset of a winner.  This comprehensive guide includes worksheets, checklists, questionnaires and business forms that make launching your busy easy.
You'll learn:
How to start, grow and protect your business
How to create an effective business plan
How to identify your target consumer and out- smart competitors
How to implement legal strategies to avoid litigation
How to create an atmosphere of success for you and your employees
____________________________________________________________
From the Heart of a Teacher exposes the ugly truth about the current educational system in the United States from a man who was once the student no teacher wanted in their classroom but is now the teacher that all students want to be in his. In this breath-taking, eye-opening, "oh no he didn't" literary work, author Rodney Jordan holds no punches when it comes to the breakdown of American schools and all parties involved, which has left those who truly care about the futures of our children, scratching their heads. With refreshing honesty, From the Heart of a Teacher not only raises awareness of the ineffective policymaking, teaching, and parenting impacting the lives of our students in grades K-12, but also offers solutions on how to fix this crisis. Jordan, a back-to-back Teacher of the Year award winner in 2010 and 2011, brings the truth to light in this book from beginning to end, challenging all who are involved when it comes to student achievement.
_________________________________________________________
Given a name such as Authorine, Ms. McKnight let God plan her next move and write a compilation of poetry pieces that not only inspire but also show how Great God is. She has been a member of Affinity Missionary Baptist Church since 2003 where Ronald E. Maxwell is the Pastor. She praises God amongst the members of the Sanctuary Choir. Since then, she completed a mission trip to Bujumbura Burundi Africa in 2004; and, is faithfully and hopefully looking forward to completing another Burundi Mission Trip in the future. In May 2012 she obtained her Bachelor's Degree of Science in Religion with a Minor in Christian Counseling from Liberty University. This is not the plan she had for her life. She thought that her life's choice would eventually be to sing professionally. However, for this season, God had a different plan for her life. Using the experiences of her life and different situations she witnessed going on around her as catalysts, her original poems can evoke encouragement, consolation and motivation.
http://www.barnesandnoble.com/s/gods-gifts-double-for-your-trouble
http://www.amazon.com/Gods-Gifts-Double-your-Trouble/dp/0984666893
____________________________________________________________

Also, follow Destiny Carter here:

Also, visit
___________________________________________________

LOOK THROUGH MY EYES TO SEE WHAT I SEE
When I look back to the root of my journey, I see the Devil trying to stop what God already had in place for me; what my life was already meant to be and what my life would mean to the Kingdom of God.
It must have truly shook old Satan as he tried to stop the beat of my heart, just as God was breathing life into me. The Doctor said that if I didn't have Open Heart Surgery before I was five years old, I would die. And now, I am still standing here, fifty years young.
I also see a child, who her mother saw as trash, yet a Godly treasure. I also see a young lady who was shunned and abused by those who were to love her. Yet, God continues to show his undying love. Again, causing the Devil a state of unrest; therefore, he felt it necessary to cut off my breath again, under estimating God's Favor. He would send his Angel to hold me and keep me safe one more time and he would, again, breath life back into me.
So, the Devil, in another desperate attempt at ending my life, threw a car at me, full speed ahead. But God, being God, slowed it down.
I see a woman who lived her life as she chose and in spite of how I lived, God still loved me. For today, he turned my test into a testimony, as well as Poetry, which will, intern, become Spoken Word, delivering God's Message to the common man, whomever that may be.
I see someone willing to go to the pits of Hell to bring souls too the Kingdom of God and who will try to move Heaven and Earth to achieve all God has for me.
I see a young lady who use to ask God "Why me; why am I so unlovable?" And yet, today, I see a fifty year old woman thanking God, for now I see just how loved I am, leading me to see just how blessed I am to be just me…….
http://www.amazon.com/dp/0615864597/ref=cm_sw_r_udp_awd_1a9Ztb0X33BKQ
______________________________________________________
Mea Fuentez escaped the Generational Curse of Child Abuse to become an Internationally Selling Author of two books, a National Child Advocate, a Successful Wife and Mother. She is an inpiration to all, especially Women and Minorities.
WHAT REALLY HAPPENED TO ME

Mea Fuentez, Author

What really happened to me.

Y

Mea Fuentez, Author

What really happened to me.

Young Mea suffers abuse at the hands of her mother, who beats her violently for many years. Full of hatred toward her mother, Mea plots to escape; believing this is the only way to survive her mother's horrific abuse. Its not just her mother who abuses young Mea… for several years Mea has dreams of a man molesting her, though she can never see his face clearly enough in her dreams to know for sure if this truly happened to her.

Until one day; everything becomes clear. Mea is molested and realizes that this is the man in her dreams… he molested her several times when she was younger. When Mea tells her mother she goes after the molester with a knife, but later returns home and blames the sexual assault on young Mea. Mea runs away from home after being abused by her mother again, only to be kidnapped and held captive in a basement; along with another young girl.

CLICK ON THE PICTURE TO VISIT MEA FUENTEZ'S WEBSITE

CLICK ON THE BANNER TO VISIT THE STREETS DON'T LOVE YOU BACK WEBSITE

LUCINDA F. BOYD

WINNINGWITHVIDEO.BIZ
CLICK HERE TO LEARN MORE OR TO PURCHACE: www.meafuentezbooks.org
Introducing
The 'What Really Happened to Me Film Project'
(A Mea Fuentez Books, LLC Project)
Project Description
'What Really Happened to Me' is an internationally selling book by Mea Fuentez. (www.meafuentezbooks.org)
It is a shocking story that opens the door; so that we can all see what goes on behind it, when it is closed. It examines the most horrifying and perplexing issue facing our society and sheds light on the Human Condition. The Causes, Effects and Consequences of Child Physical, Emotional and Sexual Abuse, as well as Neglect, are all examined in this riveting, emotional rollercoaster ride, which is based on true events that Mea has faced in her own life.
This Film Project promises to not only display the problem, but to offer solutions and inspiration to us all; especially women and minorities. This is truly "A story that needs to be told". With your help, it will be told and a percentage of profits from the completed project will benefit the victims of Child Abuse and our society, as a whole.
Please donate whatever you can; no amount is too small…
"Because the story needs to be told; for the sake of our kids!"
Mea Fuentez Books, LLC is not a registered 501c3 Non-Profit Organization